Home

/

Surf Coconut Bliss Detergent Capsules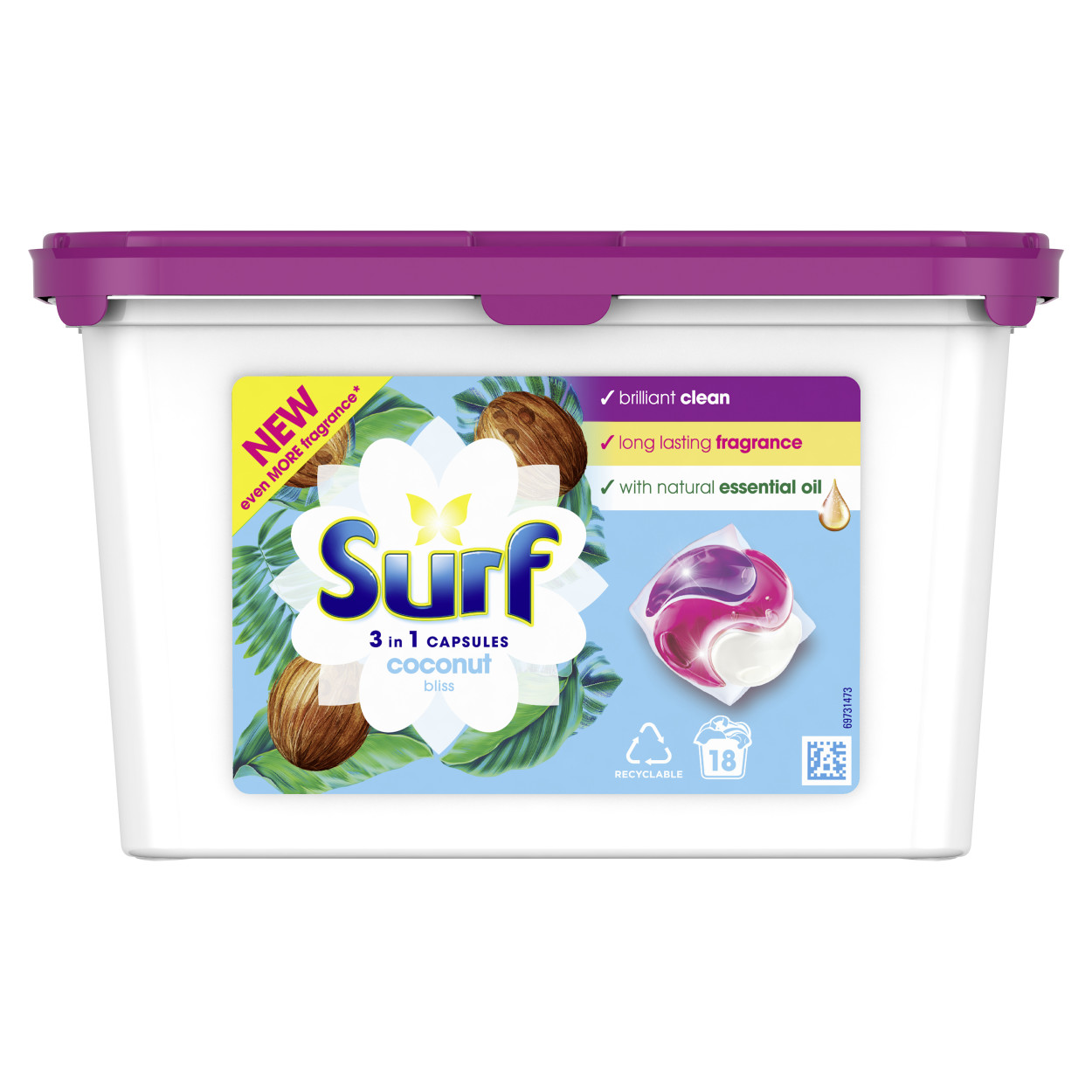 Surf Coconut Bliss Detergent Capsules
Discover the new Surf Coconut Bliss Laundry 3-in-1 Washing Capsules that give you a brilliant clean, long-lasting freshness and care for your clothes. Surf Coconut Bliss has an uplifting fragrance blend that is inspired by lush, tropical beaches and exotic getaways – paradise at your fingertips. The scent of coconut together with the sweet and warm notes of vanilla, amber and musk gives you an escape from the everyday routine to a beautiful paradise. With long-lasting fragrance, your clothes will be brilliantly clean and fresh for longer with these laundry capsules from the UK's no.1 fragrance detergent brand*. Surf's laundry range brings you the joy of fresh fragrance, long after you've washed your clothes. With burst after burst of its sweet, warm and uplifting fragrance released right through your day, your laundry stays fresh, with a brilliant deep clean you'll love every time, even in cold water. Surf laundry capsules are easy to use and the tub is 100% recyclable.
Benefits
Surf Coconut Bliss 3-in-1 Laundry Capsules give your clothes a brilliant clean and intense, long-lasting fragrance.
3-in-1 washing capsules infused with an exotic coconut scent to give your clothes an intense burst of fragrance released throughout the day.
Surf 3-in-1 laundry capsules give a brilliant clean, long-lasting freshness, and care for your clothes.
Bio washing capsules from Surf, the UK's no.1 fragrance detergent brand*.
*Kantar WPO, 52 w/e 09.08.2020
For the best results, use one capsule for standard soiling, soft/medium water and a standard load (3-5 kg). Use two capsules for heavy soiling, hard water or a larger load (6-8 kg).
18 washes
32 washes
34 washes