Home

/

Surf Lavender & Spring Jasmine Powder Detergent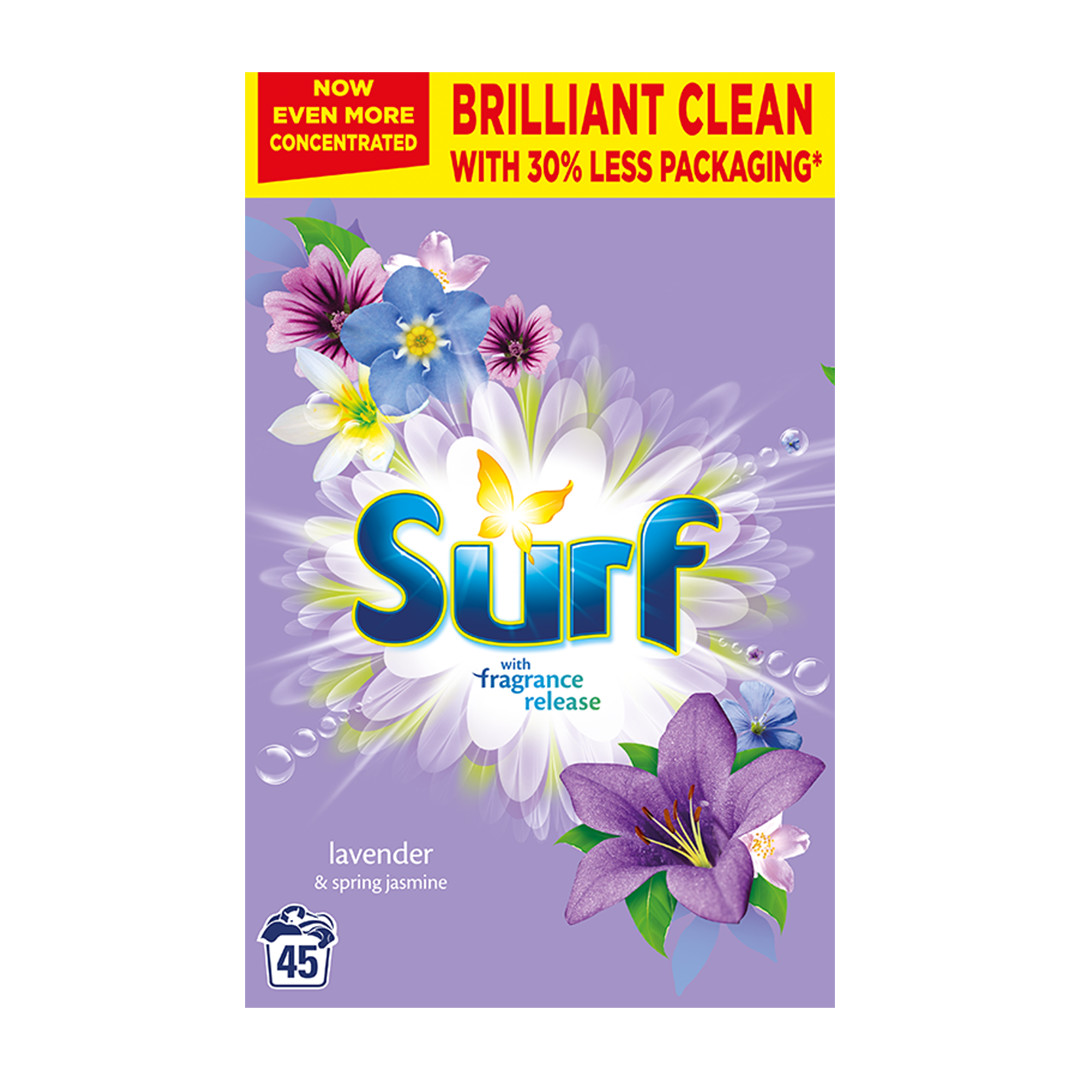 Surf Lavender & Spring Jasmine Powder Detergent
With natural essential oils, Surf Lavender & Spring Jasmine Laundry Powder gives intense fragrance throughout the day Concentrated laundry powder infused with lavender & spring jasmine to give your clothes an intense burst of fragrance released throughout the day This washing powder is now even more concentrated and uses 31% less packaging – caring for your clothes and the environment Washing powder from Surf, the UK's no.1 fragrance detergent brand*
Surf Lavender & Spring Jasmine Laundry Powder is the perfect combination of two iconic, natural scents
Benefits
Surf Lavender & Spring Jasmine Laundry Powder is the perfect combination of two iconic scents.
Our washing powder's new concentrated formula requires 31% less packaging, giving you brilliantly clean laundry every time whilst caring for the environment.
Lavender's floral, sweet scent combined with its woody, pungent perfume is both stimulating and soothing and is said to have been used to freshen laundry since Roman times.
Called the "Queen of the Night" in India, Spring Jasmine's fragrance is said to produce feelings of optimism and playfulness.
You can rest assured that your clothes will be brilliantly clean and fresh for longer with this laundry detergent from the UK's no.1 fragrance detergent brand*.
Don't add this powder to the washing machine drum, and don't mix it into a paste with water to pre-treat stains.
*Kantar WPO, 52 w/e 09.08.2021
10 washes
23 washes
39 washes
45 washes